In a world where technology is advancing, should your appliance repair business go cashless…probably not since checks are one of the oldest forms of payment.
While more and more people are using e-wallet to pay for goods and services, savvy appliance repair business owners shouldn't alienate customers by not accepting paper checks. Eliminating checks has the potential to result with negative reviews because customers who still prefer to pay for repairs by check will be forced to use another repair company.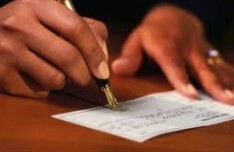 In todays world you need to cater to all homeowners to prevent losing business. Much of the older generation doesn't use smartphones the way Gen X does, which is why they still prefer to pay for services using paper checks. Boomers and seniors haven't adopted technology at the same rate and still carry traditional wallets and write checks.
There are many reasons why you should offer a variety of payment accommodations for every customer. Some people with high balances stay away from charging on their cards so they don't incur additional credit card finance charges.
And, checks are less attractive to thieves than credit cards because they aren't easy assessable and cannot be cashed by just anyone. For thieves this can be hassle to get bank routing numbers, account info, print the checks than try to cash without proper ID. Checking account numbers are not on the black market like credit cards numbers.
Using an app to accept all forms of payments is the future of growing a successful business. Keep in mind that not all processing apps are created equal; most, like Venmo/Paypal only process credit cards or transfer money.
Most traditional processing apps entail higher costs to cover the processing fees. Even with negotiated low credit card processing rates, business owners spend a fortune each year on transaction fees.
Business owners will pay more in credit card processing fees if they only accept credit cards. Yea, you can build the credit card fees into your repair prices but do you want to run the risk losing business because your repair fees are higher? Not the smartest business decision.
There are far more pros for accepting checks in the field than not, which is why a lot of appliance repairs businesses still prefer to accept checks.
Do you really want to wait and don't wait batch the weekly and make mass deposit at bank. Cash flow is increased because with mobile check deposits the funds are available in a few days (actual time varies by bank and if check is written from local account vs out of state). Waiting can be risky because a check/checks can get lost or misplaced along the way.
There is also the risk that funds aren't in the account if you wait. Than you need to deal with having to get in touch with the customer and either get another check or ask for a credit card.
Accepting Checks Reduces overhead
No processing fees with mobile check deposits using an app like iWallet Business. The app offers credit card processing and remote check deposits. The convenience of using the app is there is no equipment to buy and you can accept checks and remotely deposit check in the field in addition to credit or debit cards.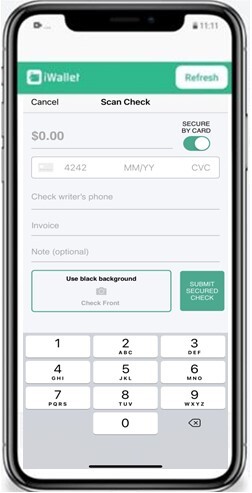 Decrease Fraud Risk
Checks are safer to upload through a smart phone instead of waiting for technicians to mail them to home office so they don't  run the risk of losing along the way. iWallet Business App scans checks through a national data base of bad check writers. If the check is flagged as bad, it will catch it in real time. More importantly since your employee is still with the customer this will gives the opportunity to ask for another form of payment.
Prevent Stop Payments
When customers write a check to pay for the repair and you wait to deposit later, you run a big risk of having a stop payment on the check. If customers are not satisfied with the work performed and complain, credit card payments can/will be disputed. Most credit card companies side on the customer and this will cause the amount to be debited from your account. The funds are returned to the customer without recourse. This is yet another reason why accepting checks is a great option.
Check Guarantee is an added level of check safety, in the event the check bounces. This is good for small or large repairs companies that have a history of customers who bounce checks.
Keys to Accept Check for Payments
Verify the check is written for the right amount. The amount written out should be the same as numerical numbers. Only accept the total amount due. Make sure your technicians verify the following before uploading.
Complete name of customer
Payee name (you or your business)
Correct date
Bank ID numbers including account and ABA routing numbers
Dollar amount
Signature
Don't waste your time thinking checks are a thing the past, they aren't! Accepting checks for payment in the field with iWallet Business could set you apart from other repair companies. It is a useful financial processing tool for small to mid-size appliance repair businesses. Accepting checks helps to attract more customers and using iWallet to remotely deposit them can provide a level of security while helping to save with overhead fees.